Spiritual Answers for Health and Happiness
by Wendy Edwards
---
---
Other Books By This Author
Healing Answers from a Survivor
Wendy Edwards
$17.99
Spiritual Answers to Guide Your Life
Wendy Edwards
$15.99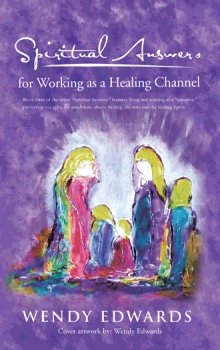 Spiritual Answers for Working as a Healing Channel
Wendy Edwards
$15.99
---
Publication Date
:
12/22/2011
---
About the Book
Spiritual Answers for Health and Happiness focuses on simple, spiritual practices you can use daily to enhance your life. It contains:-
• new ideas using light to protect and heal your aura, aura fabrics and colors, vibrational practices, boosting your immune system, etc.
• guidance on working towards a healthier aura, plus information on energy blocks, mobile blocks, protective shields and masks
• positive strategies to release pain from your life, filtering skills and introduces the concept of memory lights
• various methods to let go of unwanted emotions and negative energy, as well as breaking down your walls and surrendering
• thoughts about genetic codes, past-life stamps and genetic stamps
• discussion on the different energetic cords we form between each other, animals and places, and ways to cut or strengthen these cords
• understanding the impact words can have on your health and happiness featuring thought forms, energetic knives and word bubbles
• the relevance of energy medicine, crystals, ley lines, the sea, trees, flowers, air and art energies in your life
Being able to heal ourselves is our greatest challenge, and awakening the healer within is the beginning of our true spiritual journey.
You will return to reread this book and "download" the answers as you need.
Book two is a wealth of spiritual insights, now at your fingertips.
---
About the Author
After an electrical accident, Wendy Edwards' life changed from teacher to healer. While living in Australia, she has worked on hundreds of people using her newly found healing and channeling gift. As part of her sacred contract, she was guided to write these books and share the wisdom from above.